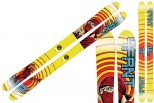 Get Boards has the right skis for you to cruise the ski slopes on.  Get these awesome Snow Skis which comes with FREE Ski Poles FREE Ski DVD FREE USA Shipping!!!!  Go to www.getboards.com where you can get snowboards, ski gear, snowboarding gear, jackets, poles and so much more!

At 4FRNT, making a lasting first impression is key, and the Grom does just that. When do you recall owning your first pair of skis? We remember ours and sadly all they had to offer was a pinstripe race graphic and a flat tail. Well, for young guns stepping foot on the largest sledding hill they've ever seen, we bring you the ultimate junior shred stick. With an even larger size run than in the past and notably wider footprint, these shreds are what daydreams are made of. Don't let the ninja fool ya, they are as playful as any all mountain junior ski out there. As 9 year old 4FRNT Team Ripper Aspen Spora puts it, "They're AWESOME!"
Original artwork by Charles Bedard.
A junior shred tool designed and shaped to accommodate the youngest and most inexperienced skiers in the world. We realize first impressions are everything and we know the GROM model is here to please. This model has a lightweight cap construction to support the intro level ripper. But don't worry, these rip sticks provide all the charm as our adult models.
# Ability Level
Beginner – Intermediate